A young woman with energy-sapping teleportation abilities must flee from a remote containment compound.
A peaceful wilderness montage opening is interrupted by a distant alarm announcing that the sedation program has failed and that a "Subject 09" has escaped containment. A moment later, there is a small explosion of energy and Subject 09 warps into view. She has a teleportation ability that's restricted by the amount of energy at her disposal. There's a gauge that displays this on her wrist.
She starts to run through the forest, pursued by guards from the containment compound armed with sedative syringes. It's a frenetic sequence of constant motion to reflect the character's adrenalin and the terror of running for one's life.
She manages to elude her pursuers for some time. A helicopter can be heard flying threateningly overhead, although it is not seen.
Finally, she reaches a rocky outcropping from which she can see suburbs and a city in the distance. Her energy levels are almost fully recharged. She wants to make it all of the way to the city and knows that she needs all of her strength. A guard who is still on her trail bursts out of the wilderness and charges, wielding a sedative syringe. The helicopter is getting louder and louder. She waits until the last minute to generate as much energy as possible before teleporting to the city. It drains her strength completely but now she's in a populated area and her pursuers don't know where she went. She's somewhat safe.
The end.
Visual FX and Sound Samples
When Subject 09 disappears it's going to be like "in a flash of smoke," but it will look and sound more advanced and almost magical. I want it to be world-bending. And so I've been looking at various techniques and sound effects to make this work. Below are a couple stock clips and sound effects that I've found. I'm also looking at more customizable options like Video Copilot's Saber plug-in for After Effects, which I have used a couple times before.
Script

(v5 -- March 11th)
Developing this script has been challenging since my original ideas were very ambitious and, while I could have probably pulled them off (given time), that was not a luxury I could afford. So I have been trying to find the right balance of doing something new/being ambitious without setting myself up for failure. Another balancing act in this script has been the lack of a budget for wardrobe, props, extras, etc. I'd love to have ten extras equipped with convincing prop guns to sell the danger the protagonist is facing but that isn't feasible. The more I've watered the pursuers down, the less tension exists in the scene. Without tension the chase scene can't be long, even though a shorter scene would be more practical. And the hero can easily become overpowered to the point where the audience questions why she's even running if, for example, she can shoot blasts of energy from her hands like she could in earlier drafts.
This is version 5 of the script, which I believe has finally achieved a good balance.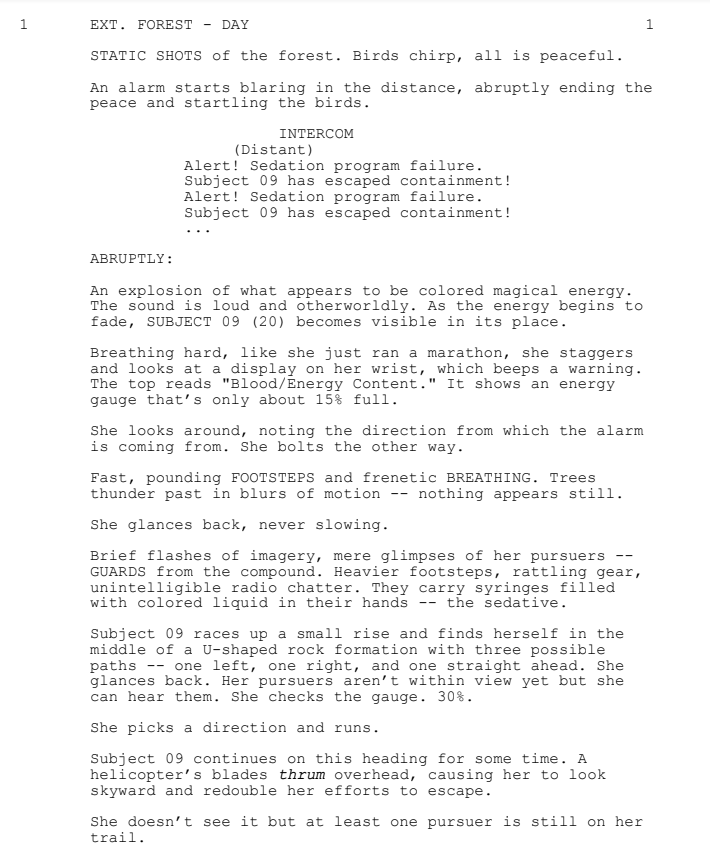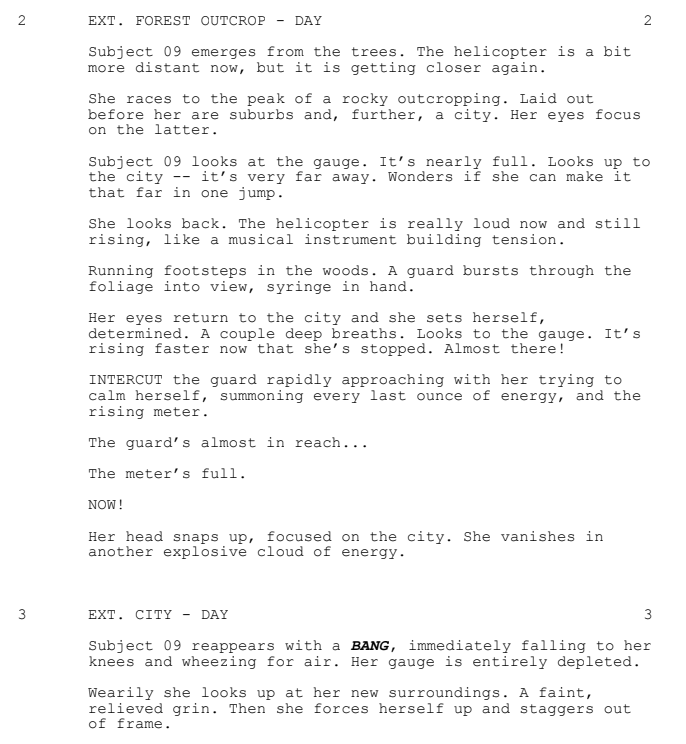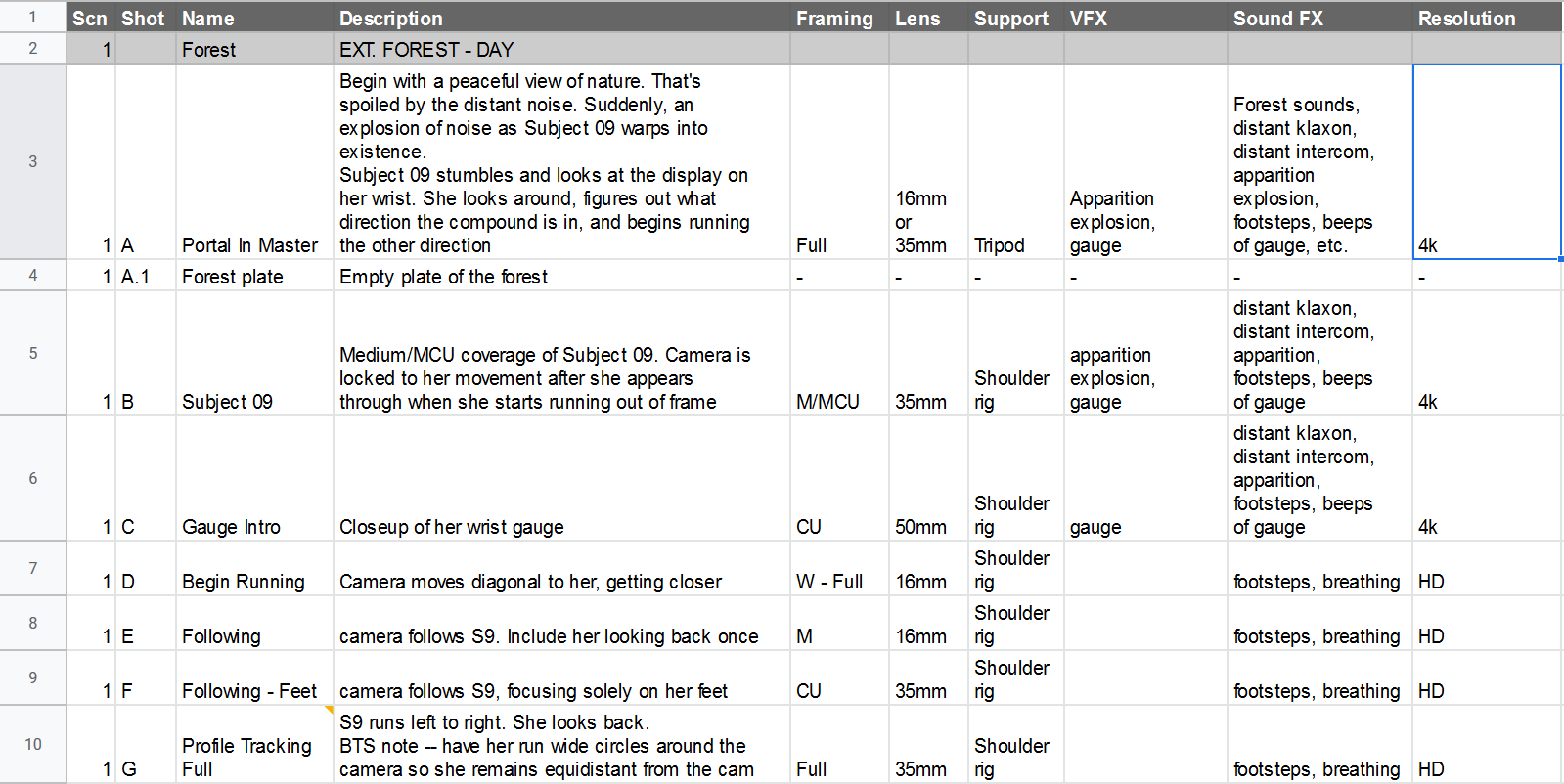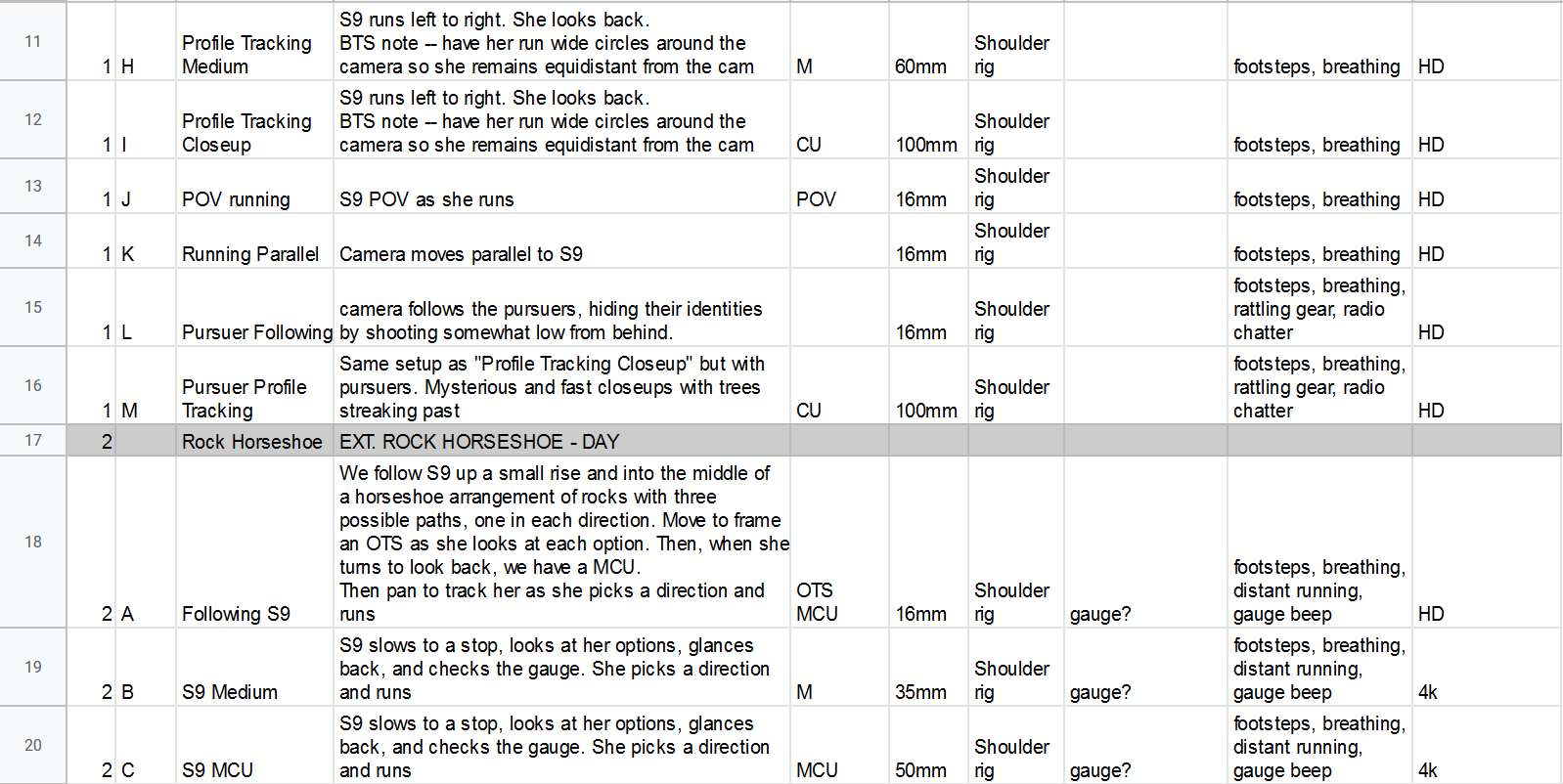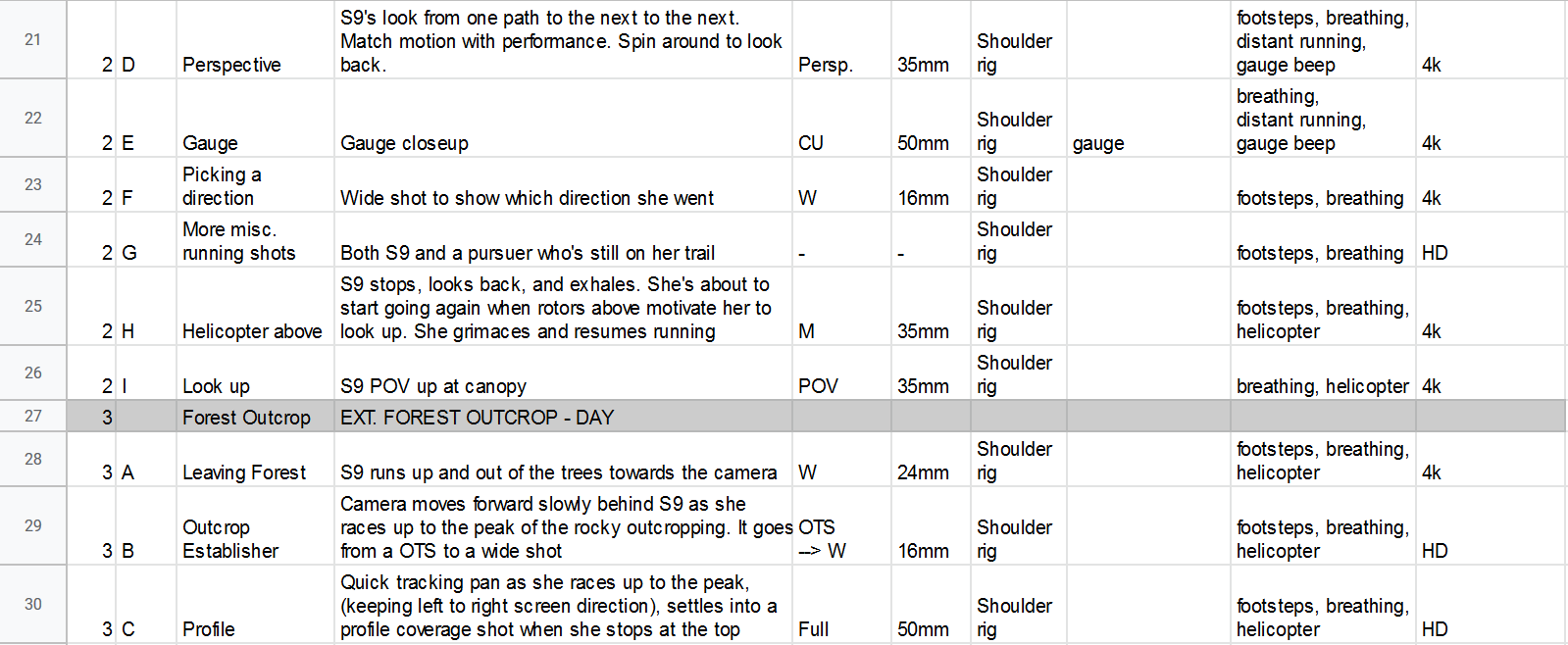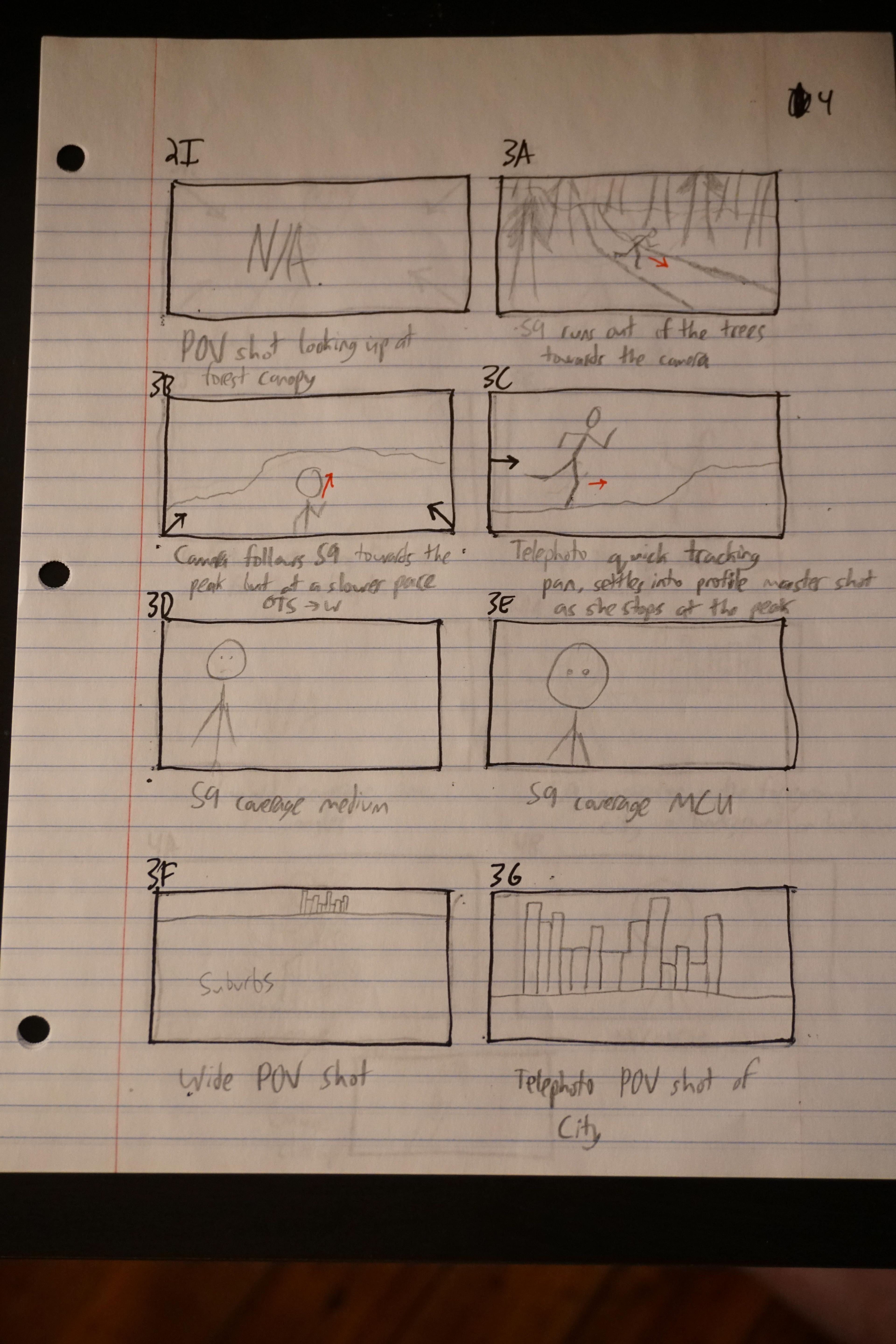 Production on this project was unexpectedly difficult. My initial plan was to film the weekend of March 16th. Unfortunately, I could not find any actors. I tried again the next weekend, contacting every actor I know through school and my job, as well as posting multiple times on the Emerson Casting Calls page, but still did not have any luck. Finally, one actor and I were able to arrange a couple hours on the morning of Wednesday, March 27th. Then, a couple days later, a prospective roommate visiting my apartment mentioned that he's interested in acting and it turned out that his schedule somewhat aligned.
The schedule on the day was very tight and we ended up only getting roughly 33 of the 45 shots on the list.
The turn-around time in post was also very tight. Due to a commitment to a 3 day shoot for another class over the weekend, I was unable to begin post production until 6 PM Sunday night. Fortunately I was able to complete the editing, visual effects, sound design, and color of a fine cut by 9 AM Monday morning.
Since I spent a great deal of time on the sound design, I wasn't eager to add music that could drown out the nuance. However, I felt like the film wasn't working. So one of the key changes I made was inserting segments of the score for PROXiMITY (the film that inspired this project) and remixing the sound design to fit. I think this had the biggest effect at the climax of the film, which finally seemed to possess the rise of energy I had originally intended to produce solely with the rising sounds of the helicopter and the guard's footsteps.
Perhaps adding music is a grave mistake, in which case I still have the fine cut to fall back on. The only other difference is the color grade, which is more developed and refined in the final.